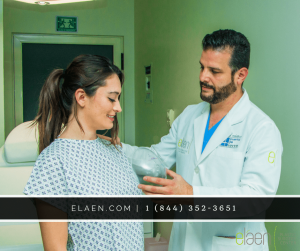 Breast Implants Mexico is the perfect option for women who are obsessed with making their breasts perkier after pregnancy, significant weight change — or the natural process of aging.
Our expert, board-certified plastic surgeon in Mexico, Dr. Alejandro Enriquez de Rivera Campero, has over 10 years of surgical experience — and is internationally recognized for his pioneering contributions to the field of cosmetic and plastic surgery in Mexico, including his groundbreaking techniques for Facelift Surgery in Mexico.
Dr. Alejandro Enriquez de Rivera Campero and his team wholeheartedly understand that plastic surgery Mexico procedures may be a source of anxiety for some patients — but rest assure our team makes it a priority to communicate every aspect of the aesthetic enhancement procedure from the very first consultation.
Along with Breast Implants, the top plastic surgery center in Mexico for medical tourism also offers Breast Lift Mexico, Breast Reduction Mexico and Breast Asymmetry Correction Mexico.
What is Breast Augmentation with Breast Implants Mexico?
Breast Augmentation Surgery in Mexico involves using Breast Implants to increase the size of breasts or restore breast volume that has been lost after weight reduction or pregnancy.
Types of Breast Implants Mexico:
Profile: The profile of a breast implant is an indicator of the distance the implant will project from the body — the higher the implant profile, the more prominent the new silhouette.
Size: Cubic centimeters (cc's) are used to measure the volume/size of the implant, rather than traditional bra sizes, and breast implants are generally available in a size range of approximately 120cc to 960cc.
Shape: Teardrop (anatomical), Round (spherical)
Type: Gel Implants
Implant Texture: Nanotexturized
At the top plastic surgery center in Mexico, Breast Augmentation Surgery requires advanced surgical approaches for Breast Implant placement, including inframammary, periareolar, and through the incisions of the mastopexy. Several variances contribute to the choice of approach, including the consultation with the best plastic surgeon in Mexico.
An inframammary incision is the most common approach for placement of a breast implant. This approach, which entails a 3 to 4cm incision, places the incision in or adjacent to the inframammary crease. The inframammary approach provides the most direct route and generally requires the least operative time for placement. Implants placed by an incision within the areolar tissue are known as periareolar incision — which often result in the least conspicuous scar. However, surgical dissection of the pocket required for implant placement is more challenging.
"From the facilities to the staff and the moment of surgery I was very comfortable and extremely well treated. Before I was self-conscious of my appearance so I had liposuction, breast augmentation and Rhinoplasty. Thanks Elaen." — Kara L.
Benefits of Breast Implants in Mexico

A majority of plastic surgeons in the United States offer the easier surgical Subglandular technique for breast implant surgery, which results in increased sagging of the implant and results that won't appear for years. Plastic Surgeons in the United States more often use smooth breast implants — leaving more risk for long-term issues.
The leading plastic surgeon in Mexico, Dr. Alejandro Enriquez de Rivera Campero, uses his skills and artistry to challenge the opposing tissue forces in order to make the breasts fuller (by stretching the skin with augmentation), and firmer (by tightening the skin with a breast lift) — without compromising the circulation of the tissues.
At elaen, our surgical team also implements the more advanced Submuscular technique, which will keep the implant in position for many years. Unlike plastic surgery clinics in the USA and Canada, elaen Plastic Surgery Center uses only textured, FDA approved Gel breast implants by Mentor.
Over the past few years, our lead surgeon has created various modern techniques to make cosmetic breast surgery more manageable. During breast augmentation surgery in Mexico, we use Twilight Sedation combined with an Epidural (Plastic Surgery clinics in the US often use general anesthesia). Twilight Sedation is an anesthetic technique where a mild dose of general anesthesia is applied to induce anxiety relief, hypnosis, and amnesia. The patient is not unconscious, but comfortably sedated and breathing on their own. Epidural anesthesia is a safe technique not associated with neurologic or respiratory complications. It significantly improves patients recovery and reduces Breast Implant Mexico prices.
**Please do not let US Plastic Surgery Clinics fool you into making the wrong decisions. Breast Implants DO NOT lift your breast — the contrary effect is expected. And if they tell must use a bigger implant to achieve this elevation. They are NOT telling you the truth.**
Breast Augmentation Surgery in Mexico
To perform Breast Augmentation Surgery in Mexico, Dr. Alejandro Enriquez de Rivera Campero, locates the implant in a pocket behind the breast gland — entirely on top of the pectoralis major muscle. With subglandular placement there is no interference with the muscle function, no movement of the breasts that occurs with arm movement if the implant is subpectoral, and no stretching of the muscle is required for the implant to settle into its final position.
A second, smaller pocket is created between the muscle and the above glandular tissue, typically up to about the level of the nipple or upper border of the areola. Nothing is placed in this pocket, but the separation of tissues serves to separate the tighter muscle with the overlying stretched breast tissue to permit the implant to better fill out the lower pole of the breast. This unique and modern approach adds additional time to the procedure, but can make all the difference in obtaining a beautiful, natural augmentation as opposed to a unnatural look.
What type of breast implant do we use? Our plastic surgery center only implements Motiva Nanotexturized Gel Implants. The feel more like natural breast tissue — and are safe and reliable. Millions of women all over the world choose these implants. The Motiva Gel Implants are:
Made in the Costa Rica
Filled with highly cohesive gel
Gel filler holds together uniformly to look and feel like natural breast tissue
Set fill volume for predictable results
Recovery from Breast Implants in Mexico
After Breast Implant Surgery in Mexico, you will be reltively pain free when you wake up. You will be wearing a surgical bra. Once you are fully recovered from the sedation, you will be released into the care of a friend or family member. Your post operative instructions will include 2 weeks without lifting or strenuous activity.
There will be swelling and fullness in the upper breast as the implants start to settle. It will take up to three months for the implants to fully settle, but improvement will be noticed after the first few weeks.
Introduction to elaen — Where do I Start?
STEP 1 | Initial Contact with elaen Plastic Surgery Center
STEP 2 | Online Consultation with Dr. Alejandro Enriquez de Rivera Campero
STEP 3 | Preparation for Breast Augmentation Mexico
STEP 4 | Breast Implant Surgery
STEP 5 | elaen Plastic Surgery Center Aftercare Program
The elaen Experience
Are you interested in having plastic surgery in Mexico? At elaen Plastic Surgery Center, we provide a caring atmosphere that sets us apart from the rest.  After your initial consultation and evaluation, you'll receive personalized surgical recommendations tailored to your cosmetic needs. Dr. Alejandro Enriquez de Rivera Campero believes in the importance of having well-informed patients, and will take the time to explain all of your breast augmentation options and procedural details so that you feel completely comfortable about your surgery.