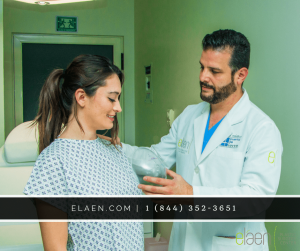 PROCEDURE OVERVIEW
| | |
| --- | --- |
| PROCEDURE | Breast implants |
| GOALS | Enhance, restore or augment breast volume by using implants. |
| ANESTHESIA | Sedation + epidural. |
| LENGHT | 2 hours |
| AFTER PROCEDURE | Drains are removed during the first week, in average 3-4 days after the surgery. |
| RECOVERY | Swelling improves after the 2nd week. Return to work can be at 2 weeks if it does not involve physical exertion. Exercise should start 6-8 weeks postop. |
Introduction
The surgery is called Breast augmentation, and can be achieved by putting implants or using fat transfer (at eláen we only use fat transfer for selected reconstructive cases).
Our experts, board-certified plastic surgeons in Mexico, Dr. Alejandro Enriquez de Rivera Campero and Dr. Rosa María Nava Garibaldi have over 20 years of combined surgical experience — being internationally recognized for their contributions to the field of cosmetic and plastic surgery in Mexico, including groundbreaking techniques for Facelift.
Dr. Alejandro Enriquez de Rivera Campero and his team wholeheartedly understand that plastic surgeryprocedures may be a source of anxiety for some patients — but rest assure our team makes it a priority to communicate every aspect of the aesthetic enhancement procedure from the very first consultation.
Along with Breast Implants, the top plastic surgery center in Mexico for medical tourism also offers Breast Lift, Breast Reduction and Breast Asymmetry Correction.
BACKGROUND
            Breast augmentation (also called Breast aug, boob job, augmentation mammoplasty). The objective pf the procedure is to achieve fullness and projection of the breasts, attain symmetry or a general harmonization of the balance of breast and hip contours, enhancing self-image and self-confidence.
CANDIDATES
Healthy individuals, not pregnant or breastfeeding
Patients who have fully developed
Patients who are dissatisfied with the size or shape of there breasts.
Patients with certain congenital conditions with underdeveloped breasts.
Patients with realistic expectations and that will abide by the indications after the surgery.
IMPLANTS
            Implants used in the procedure can be in a wide variety of types. Here is a short classification based on the characteristics.
Shape:

Round
Anatomical (gummy bear)

Profile

The profile of a breast implant is an indicator of the distance the implant will project from the body — the higher the implant profile, the more prominent the new silhouette.

Size

Cubic centimeters (cc's) are used to measure the volume/size of the implant, rather than traditional bra sizes, and breast implants are generally available in a size range of approximately 120cc to 960cc.

Outer layer
Filling
Our plastic surgery center only implements Motiva Nanotexturized Gel Implants. They feel more like natural breast tissue — and are safe and reliable. Millions of women all over the world choose these implants. The Motiva Gel Implants are:
Made in the Costa Rica
Filled with highly cohesive gel
Gel filler holds together uniformly to look and feel like natural breast tissue
Set fill volume for predictable results
DESCRIPTION OF PROCEDURE 
The leading plastic surgeon in Mexico, Dr. Alejandro Enriquez de Rivera Campero, uses his skills and artistry to challenge the opposing tissue forces in order to make the breasts fuller (by stretching the skin with augmentation), and firmer (by tightening the skin with a breast lift) — without compromising the circulation of the tissues.
At elaen, our surgical team also implements the more advanced Submuscular technique, which will keep the implant in position for many years.
Over the past few years, our lead surgeon has created various modern techniques to make cosmetic breast surgery more manageable. During breast augmentation surgery in Mexico, we use Twilight Sedation combined with an Epidural (Plastic Surgery clinics in the US often use general anesthesia). Twilight Sedation is an anesthetic technique where a mild dose of general anesthesia is applied to induce anxiety relief, hypnosis, and amnesia. The patient is not unconscious, but comfortably sedated and breathing on their own. Epidural anesthesia is a safe technique not associated with neurologic or respiratory complications. It significantly improves patients recovery and reduces surgery prices.
At the top plastic surgery center in Mexico, Breast Augmentation Surgery requires advanced surgical approaches for Breast Implant placement, including inframammary, periareolar, and through the incisions of the mastopexy. Several variances contribute to the choice of approach, including the consultation with the best plastic surgeon in Mexico.
An inframammary incision is the most common approach for placement of a breast implant. This approach, which entails a 3 to 4cm incision, places the incision in or adjacent to the inframammary crease. The inframammary approach provides the most direct route and generally requires the least operative time for placement. Implants placed by an incision within the areolar tissue are known as periareolar incision — which often result in the least conspicuous scar. However, surgical dissection of the pocket required for implant placement is more challenging.
"From the facilities to the staff and the moment of surgery I was very comfortable and extremely well treated. Before I was self-conscious of my appearance so I had liposuction, breast augmentation and Rhinoplasty. Thanks Elaen." — Kara L.
COMPLEMENTARY PROCEDURES
            Each case is individually evaluated by our team. Thus achieving the best result possible for everyone of our patient.
            This said, the procedures that can be combined with breast implants are: Breast Lift or Breast Reduction.
LIMITATIONS OF THE PROCEDURE
            By itself this surgery does not correct ptosis or drooping breasts, it has to be combined with a breast lift.
            Also depending on the expectations of the patient there is a limit to the size of implant that can be used, the surgeon has to take in account, the size of the existing breasts, skin quality, dimensions of the thorax, among others.
            A common inquiry is the lifespan of an implant, and the answer is actually there is no longer a limit of years where you have to replace the implants. The only limit is the warranty the implant brand gives, which is generally 10 years. The patient needs to continue with annual revisions with ultrasound or mammograms depending on their age.
POSIBLE NON-SURGICAL ALTERNATIVE TREATMENTS
            For a breast augmentation the only safe option is surgical.
RISKS
            In general this surgery is relatively safe, but as any surgical procedure it can be associated with the following:
Risks with the anesthesia
Bleeding
Seroma (that is an accumulation of inflammatory fluid)
Infection
Pain that persists or alteration in sensation.
Altered scarring
There can also be complications associated with the implant, these can be:
Capsular contracture (scar tissue around the implant can be hard or tight)
Implant leakage or rupture
Wrinkling of the skin surrounding the implant.
Malposition of the implant
Possibility of needing a second or revision surgery
BIA-ALCL (Breast implant associated Anaplastic Large Cell Lymphoma)
It's important to consider that there are factors that can change the initial result throughout the lifetime, such as pregnancy, weight loss and menopause. So it should be noted that breast implants are not guaranteed to last forever and revision surgery or secondary surgery can be required on one or both breasts. As stated before, it's necessary to have regular examinations for breast health and to evaluate the general conditions of the implants.
PREPARATION
            For all of our surgeries we require the patient to complete a series of pre operative screening, this include blood work and a cardiological evaluation (to see overall health and potential issues that can be addressed before the surgery or that could affect the safety of the patient during the procedure).
            Added to this depending on the case we might also require a specific study of the breasts, an ultrasound or mammogram.
RECOVERY
After Breast Implant Surgery in Mexico, you will be relatively pain free when you wake up. You will be wearing a surgical bra. Once you are fully recovered from the sedation, you will be released into the care of a friend or family member. Your post operative instructions will include 2 weeks without lifting or strenuous activity.
There will be swelling and fullness in the upper breast as the implants start to settle. It will take up to three months for the implants to fully settle, but improvement will be noticed after the first few weeks.
Introduction to elaen — Where do I Start?
STEP 1 | Initial Contact with elaen Plastic Surgery Center
STEP 2 | Online Consultation with Dr. Alejandro Enriquez de Rivera Campero
STEP 3 | Preparation for Breast Augmentation Mexico
STEP 4 | Breast Implant Surgery
STEP 5 | elaen Plastic Surgery Center Aftercare Program
The elaen Experience
Are you interested in having plastic surgery in Mexico? At elaen Plastic Surgery Center, we provide a caring atmosphere that sets us apart from the rest.  After your initial consultation and evaluation, you'll receive personalized surgical recommendations tailored to your cosmetic needs. Dr. Alejandro Enriquez de Rivera Campero believes in the importance of having well-informed patients, and will take the time to explain all of your breast augmentation options and procedural details so that you feel completely comfortable about your surgery.