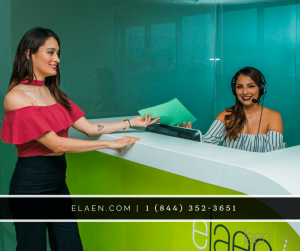 Rhinoplasty Mexico, also known as Nose Surgery Mexico, can have a profound effect on the appearance of the entire face. And what could possible be worse than a nose you are aesthetically unhappy with and cannot breathe out of?
Our elite plastic surgery team in Mexico takes a different approach to Nose Surgery in Mexico. We combine the artistry and skill of a renowned plastic surgeon with a world-class oral surgeon.
Here at eláen Plastic Surgery Center in Puerto Vallarta, we also offer a full spectrum of advanced plastic surgery procedures, including Facelift Mexico, Liposuction Mexico, and Breast Implants Mexico.
Led by expert plastic surgeon, Dr. Alejandro Enriquez de Rivera Campero, the team at eláen Plastic Surgery Center Mexico offers expertise and an approachable style which has given the top plastic surgery clinic in Mexico an astounding reputation and excellent media resource.
What is Rhinoplasty Mexico?
Rhinoplasty Mexico can change the size, shape or proportions of your nose. It may be completed to repair deformities from an injury, correct a birth defect or improve some breathing difficulties.
Many eláen patients choose Nose Surgery in Mexico for their own personal reasons that often include:
Enhancing the size or shape of the nose
Repairing damage caused by an injury
Improving or restoring breathing
Complementing another facial procedure; eyelid surgery or face lift
Benefits of Nose Surgery in Mexico

Many clinics in the United States offer Nose Surgery or Septoplasty Surgery, however they are less likely to be completed at the same time because many surgeons are not skilled in both. To benefit the most from Nose Surgery, your surgeon needs to specialize in both functional and cosmetic rhinoplasty — as they are two very different procedures.
At eláen Plastic Surgery and Hair Transplant Center, our expert plastic surgeon and oral surgeon excel at combining Nose Surgery in Mexico with Septoplasty Mexico so that your nose's exterior and interior can be completely corrected in one single visit.
Septoplasties are commonly performed to fix a nasal septum — or the narrow part of tissue in between your nostrils. What is a Deviated Septum? The tissue between your nostrils is crooked and blocks air from seamlessly going through your nostrils.
Many surgeons in the USA also use packing strips after Nose Surgery. Here at eláen Plastic Surgery Center, we DO NOT pack the nose. We want our patients to be comfortable — and have the ability to breathe through their nose. We use a special technique to place dissolving stitches on the inside.
"Best of the best…Can't say enough about the skills of Dr. Alejandro and his caring, fabulous staff!" — Soci R.
Combining Rhinoplasty Mexico and Septoplasty Mexico
Rhinoplasty in Mexico and Septoplasty are achieved under general anesthesia. Performed together, the procedures take from 2 to 4hours, depending on the complexity of the procedure.
Depending on your specific case, we may perform the following:
Straighten a crooked nose
Reshape a deviated septum
Change the height or width of the nasal bridge
Open up nasal passageways
Augment nasal tips and/or cartilages
Reshape the nasal base
Nose Surgery Mexico — Where do I Start?
STEP 1 | Initial Contact with eláen Plastic Surgery Center
STEP 2 | Online Consultation with Dr. Alejandro Enriquez de Rivera Campero
STEP 3 | Preparation for Rhinoplasty Surgery
STEP 4 | Rhinoplasty Mexico (Anesthesia, Surgical Incision, Closing Incision, Results)
STEP 5 | eláen Recovery Program
The eláen Experience
Are you interested in having plastic surgery in Mexico? At eláen  Plastic Surgery Center, we provide a caring atmosphere that sets us apart from the rest. After your initial consultation and evaluation, you'll receive personalized surgical recommendations tailored to your cosmetic needs. Dr. Alejandro is committed to making your plastic surgery experience at eláen a success to give you complete gratification.