"They exceed my expectations! I don't usually write reviews but I thought I would share with everyone just how talented this team is." — Katie I.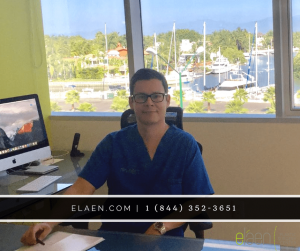 Eláen Plastic Surgery and Hair Transplant Center in Mexico specializes in hair transplant surgery for men and women. Our highly sought-after surgeon, Dr. Roberto, brings over ten years of experience and professional expertise to the practice. The eláen team creates refined and proven results for every patient in pursuit of a fuller, natural looking head of hair.
At eláen, we not only perform hair transplant surgery for men and women, but Dr. Roberto also evaluates and treat patients with different causes of hair loss and scalp conditions.
We approach each hair loss journey with an all-inclusive practice — obtaining a detailed medical history, performing an in-depth examination using state-of-the art diagnostics and, if indicated, blood tests to detect any underlying imbalances that may be contributing to the hair loss.
What is FUT Hair Transplant Surgery?
Hair transplantation involves removing small pieces of hair-bearing scalp grafts from a donor site and relocating them to a bald or thinning area. What is FUT? Follicular Unit Transplant (FUT) surgery, it is generally performed under the guidance of a high-powered microscope. The microscope helps augment the graft yields, providing more coverage and better hair transplant outcomes. Once the hair is transplanted, it will grow in groups of one to four hairs. While we do not offer Follicular Unit Transplant (FUT) surgery, our leading hair transplant clinic in Mexico does offer Follicular Unit Extraction (FUE).
What is the difference between FUE and FUT?
When properly performed there is no measurable difference in hair growth and naturalness. Follicular Unit Extraction (FUE) Mexico provides a patient who wants to keep their hair very short in the back the peace-of-mind that no linear donor scar will be visible. Follicular Unit Transplant (FUT) harvests more grafts, more efficiently in a single hair transplant session. When the donor is closed properly the linear scar is so thin that it is not visible unless the scalp is shaved.
Introduction to eláen— Where do I Start?
STEP 1 | Initial Contact with eláen Hair Transplant Center
STEP 2 | Online Consultation with Dr. Roberto Guerrero Zazueta
STEP 3 | Preparation for Hair Transplant Surgery
STEP 4 | FUE Surgery (We do not offer FUT)
STEP 5 | Recovery Program
The eláen Experience
Although cosmetic surgery technically only modifies and improves a patient's outward appearance, it can have a powerful effect on your self-esteem and self-confidence.  Are you ready to transform your life? At eláen Plastic Surgery Center, we have changed the way patients and the medical community perform hair transplantation. After your initial consultation and evaluation, you'll receive personalized surgical recommendations tailored to your cosmetic needs.