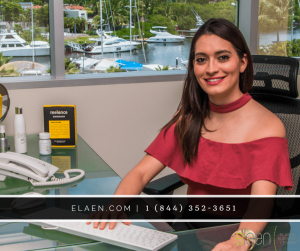 Do you feel that you have an excessively unflattering chin or a double chin? The top plastic surgeon in Mexico, Dr. Alejandro Enriquez de Rivera Campero, offers innovative Neck Lift Mexico procedure to achieve a more defined — more graceful neckline.
Our surgical team at eláen Plastic Surgery Center also offers an array of plastic surgery procedures and treatments — including Facelift Mexico, Breast Implants Mexico, and Tummy Tuck Mexico.
Esteemed plastic surgeon, Dr. Alejandro Enriquez de Rivera Campero, holds a very specific vision in mind when creating his plastic surgery practice in Mexico —  as he wanted to provide an environment based on the principles of delivering affordable, superior surgical results without sacrificing high-quality patient care.
What is Neck Lift Mexico Surgery?
Neck Lift Mexico using Liposuction Mexico creates a firmer, smoother and more refined appearance to the neck and chin. It greatly improves visible signs of aging in the jawline and neck, such as:
Excess fat and skin relaxation in the lower face that creates jowls
Excess fatty deposits under the chin
Loose neck skin
Muscle banding in the neck, which created abnormal contours
Benefits of Neck Lift Mexico Combined with Laser Liposuction Mexico
Unlike all other neck lifting procedures, Neck Lift Mexico leaves NO unsightly scars and is performed under local anesthesia with minimal downtime. Dr. Alejandro Enriquez de Rivera Campero, uses Laser Liposuction Mexico to tighten the skin, which many surgeons in the USA do not offer.
"The staff is warm and welcoming. I could not be happier with my experience." — Cathy P.
Introduction to eláen — Where do I Start?
STEP 1 | Initial Contact with eláen Plastic Surgery Center
STEP 2 | Online Consultation with Dr. Alejandro Enriquez de Rivera Campero
STEP 3 | Preparation for Neck Lift Surgery
STEP 4 | Neck Lift Mexico (Anesthesia, Surgical Incision, Closing Incision, Results)
STEP 5 | eláen Recovery Program
The eláen Experience
Are you interested in having plastic surgery in Mexico? At eláen Plastic Surgery Center, we provide a caring atmosphere that sets us apart from the rest.  After your initial consultation and evaluation, you'll receive personalized surgical recommendations tailored to your cosmetic needs. Our team strives to provide exceptional care to patients — aiming to continuously exceed your expectations.