"I recently had a full tummy tuck and breast lift and am at day 24!!! The best decision of my life by far. Thanks Dr. Alejandro." — Tonya B.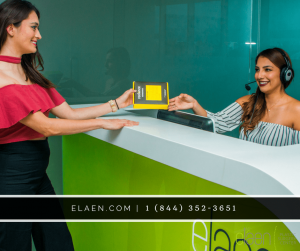 A flat and well-toned abdomen is something every individual strives for through extreme exercise and dieting. Inside the eláen Plastic Surgery and Hair Transplant Center, we offer patients the latest techniques and developments — based on experience, expertise, and an active participation in the global medical community.
Our world-class surgeon, Dr. Alejandro Enriquez de Rivera Campero, is devoted to developing an individual treatment plan for enhancing and sustaining your aesthetic goals.
We are the only plastic surgery clinic in Mexico with multi-specialty, world-class surgeons who work collaboratively to deliver quality results in a modern atmosphere.
At the most prominent plastic surgery clinic in Mexico, we combine Tummy Tuck Mexico with Liposuction Mexico. It can also be combined with Breast Implants Mexico.
What is Tummy Tuck Surgery?
Tummy Tuck Mexico, also known as abdominoplasty, removes excess fat and skin and, has the ability to repair deteriorated or separated muscles — forming an abdominal contour that is smoother and firmer. Our eláen Plastic Surgery Center patients undergo this procedure to:
Remove stretch marks or excess skin in your abdomen that does not improve with diet or exercise.
Reshape the abdomen if it has been affected by pregnancy or massive weight loss.
Contour a protruding, unattractive abdomen.
Boost self-confidence.

Tummy Tuck Surgery in Mexico
Tummy Tuck Mexico is performed by our board-certified and renowned plastic surgeon, Dr. Alejandro Enriquez de Rivera Campero using general anesthesia.
Once the procedure begins, Dr. Alejandro will make a total of two incisions: one will be right around your navel and the other will be from one hipbone to the other below your bikini line (near the pubic bone area). The fat and skin is lifted from the abdominal muscle group and the muscles are repaired. He will then tighten the muscles by suturing them in place before excising any excess fat or skin that could interfere with your overall cosmetic results. During the procedure, two temporary tubes will be inserted to permit any excess fluid to drain out of the area.
The final steps of your procedure will be to secure the outermost layer of skin with sutures and relocate your navel in a natural place on your abdomen. A surgical binder will be placed around your surgical site to ensure the sutures stay in place. Following surgery, a garment will be worn for 14 days.
Tummy Tuck Surgery & Brazilian Butt Lift
It's quickly becoming one of the hottest plastic surgery Mexico procedures in 2019 … Tummy Tuck combined with Brazilian Butt Lift (BBL). According to RealSelf, patients in the USA have researched the BBL over 3 million times in the last year. See our Before/After from surgery performed by Dr. Alejandro Enriquez de Rivera Campero, Mexico's leading plastic surgeon.
Introduction to eláen — Where do I Start?
STEP 1 | Initial Contact with eláen Plastic Surgery Center
STEP 2 | Online Consultation with Dr. Alejandro Enriquez de Rivera Campero
STEP 3 | Preparation for Tummy Tuck Surgery
STEP 4 | Tummy Tuck Surgery
STEP 5 | Recovery Program
The eláen Experience
Although cosmetic surgery technically only modifies and improves a patient's outward appearance, it can have a powerful effect on your self-esteem and self-confidence.  Are you ready to transform your life? At eláen Plastic Surgery Center in Mexico, we provide a caring atmosphere that sets us apart from the rest. After your initial consultation and evaluation, you'll receive personalized surgical recommendations tailored to your cosmetic needs.