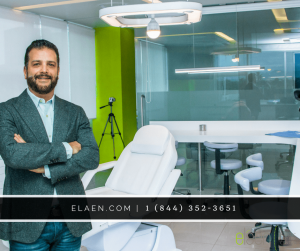 Inside the world-class plastic surgery clinic, eláen Plastic Surgery and Hair Transplant Center, a dedicated team of specialists are  using Eyelid LIft Mexico to restore a younger, firmer eye area by removing the excess fat, muscle and skin through tiny incisions — where they are least visible along the natural lines of your eyelids and in the creases of your upper lids.
Dr. Alejandro Enriquez de Rivera Campero often combines Eyelid Lift Surgery in Mexico with other cosmetic procedures — including Facelift Surgery Mexico and Browlift Surgery Mexico to further improve your desired look and achieve a more comprehensive facial rejuvenation experience.
What is an Eyelid Lift in Mexico?
Eyelid Lift Surgery in Mexico is designed to help uplift tired, drooping eyelids by removing loose skin and fat deposits from the upper and lower eyelid areas.
Dr. Alejandro Enriquez de Rivera Campero and his team customize Eyelid Lift Mexico to treat:
Loose or sagging skin that creates folds or disturbs the natural contour of the upper eyelid, sometimes impairing vision
Excess fatty deposits that appear as puffiness in the eyelids
Bags under the eyes
Drooping lower eyelids that reveal white below the iris
Excess skin and fine wrinkles of the lower eyelid
"Completely Satisfied! From start to finish my experience has been amazing!" — Mary B.
Benefits of Eyelid Lift at Mexico's Top Plastic Surgery Center
While an overwhelming number of specialists offer Eyelid Lift Surgery — including ophthalmologists, dermatologists, and other cosmetic surgeons, it is extremely important to choose a plastic surgeon who is experienced in eyelid enhancement. Dr. Alejandro Enriquez de Rivera Campero is one of the foremost eyelid surgeon's in the world.
Very few surgeons offer the level of expertise and artistry that he brings to cosmetic surgery and aesthetic restorative procedures to address facial features.
Types of Eyelid Lift Mexico Enhancement
Our world-class surgeon, Dr. Alejandro Enriquez de Rivera Campero, offers two types of eyelid enhancement to accommodate the needs of our eláen patients.
Eyelid Lift Surgery helps to reverse the effects of aging so you look well-rested and refreshed.
Concealed Eyelid Surgery a very popular procedure that creates a more defined eyelid and conceals aging and puffiness.
Eyelid Lift Surgery at the top plastic surgery center in Mexico, is achieved local anesthesia and twilight sedation. What is Twilight Sedation? Twilight Sedation Mexico is an anesthetic technique where a mild dose of general anesthesia is applied to induce anxiety relief, hypnosis, and amnesia. The patient is not unconscious, but comfortably sedated and breathing on their own. 
Introduction to eláen — Where do I Start?
STEP 1 | Initial Contact with eláen Plastic Surgery Center
STEP 2 | Online Consultation with Dr. Alejandro Enriquez de Rivera Campero
STEP 3 | Preparation for Eyelid Lift Surgery
STEP 4 | Eyelid Lift Mexico (Anesthesia, Surgical Incision, Closing Incision, Results)
STEP 5 | eláen Recovery Program
The eláen Experience
Are you interested in having plastic surgery in Mexico? At eláen Plastic Surgery Center, we provide a caring atmosphere that sets us apart from the rest.  After your initial consultation and evaluation, you'll receive personalized surgical recommendations tailored to your cosmetic needs. Dr. Alejandro Enriquez de Rivera Campero is committed to making your plastic surgery experience at eláen a success to give you complete gratification.